An installation by BlueDot for EDIT: Expo for Design, Innovation, & Technology, a festival held by Toronto's Design Exchange.
Air travel has enabled us to travel essentially anywhere in the world in less than 24 hours. Hello, Neighbour visualizes how the world is smaller than we think and entertains the idea that infectious diseases can travel as easily as humans can.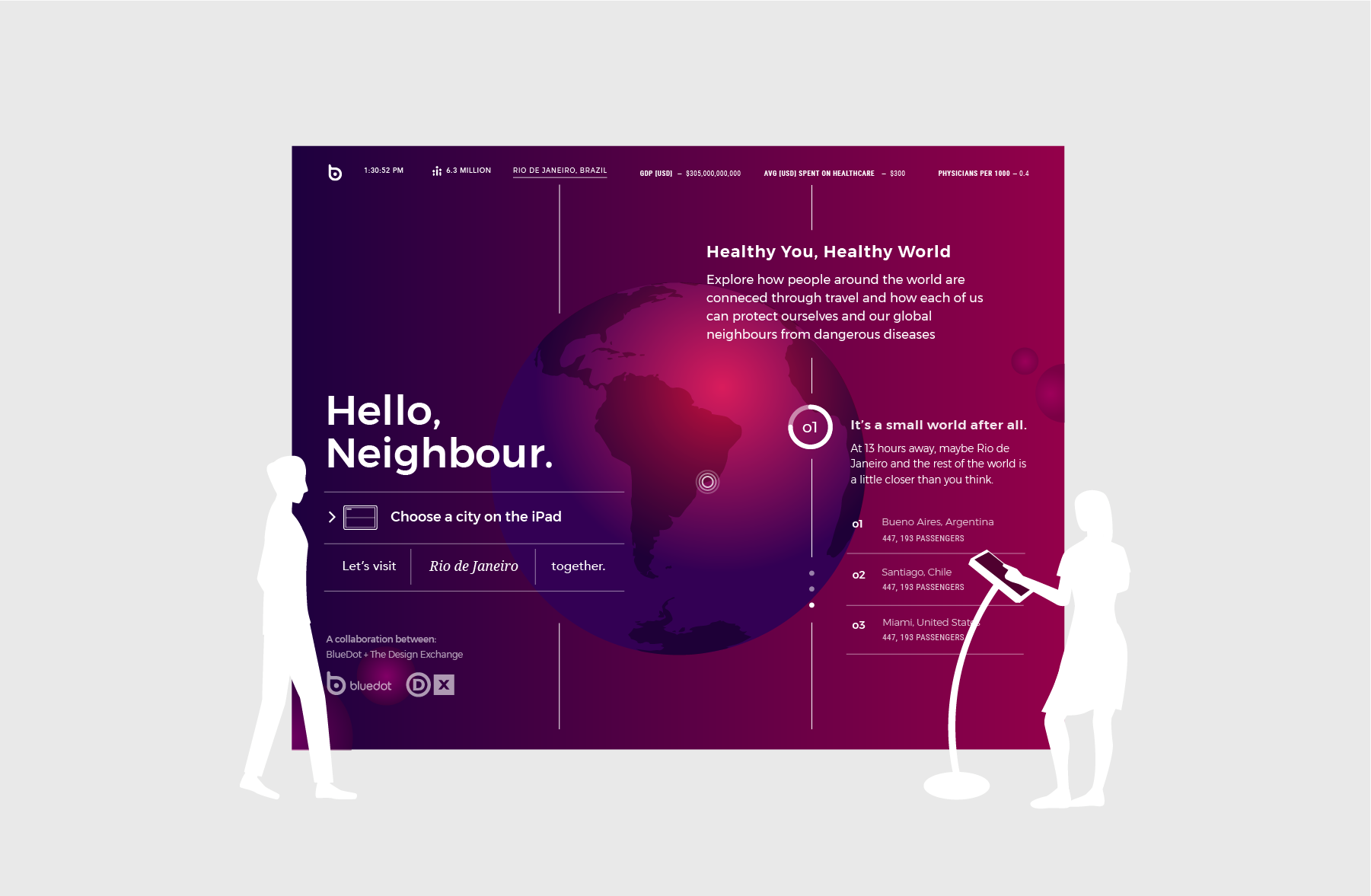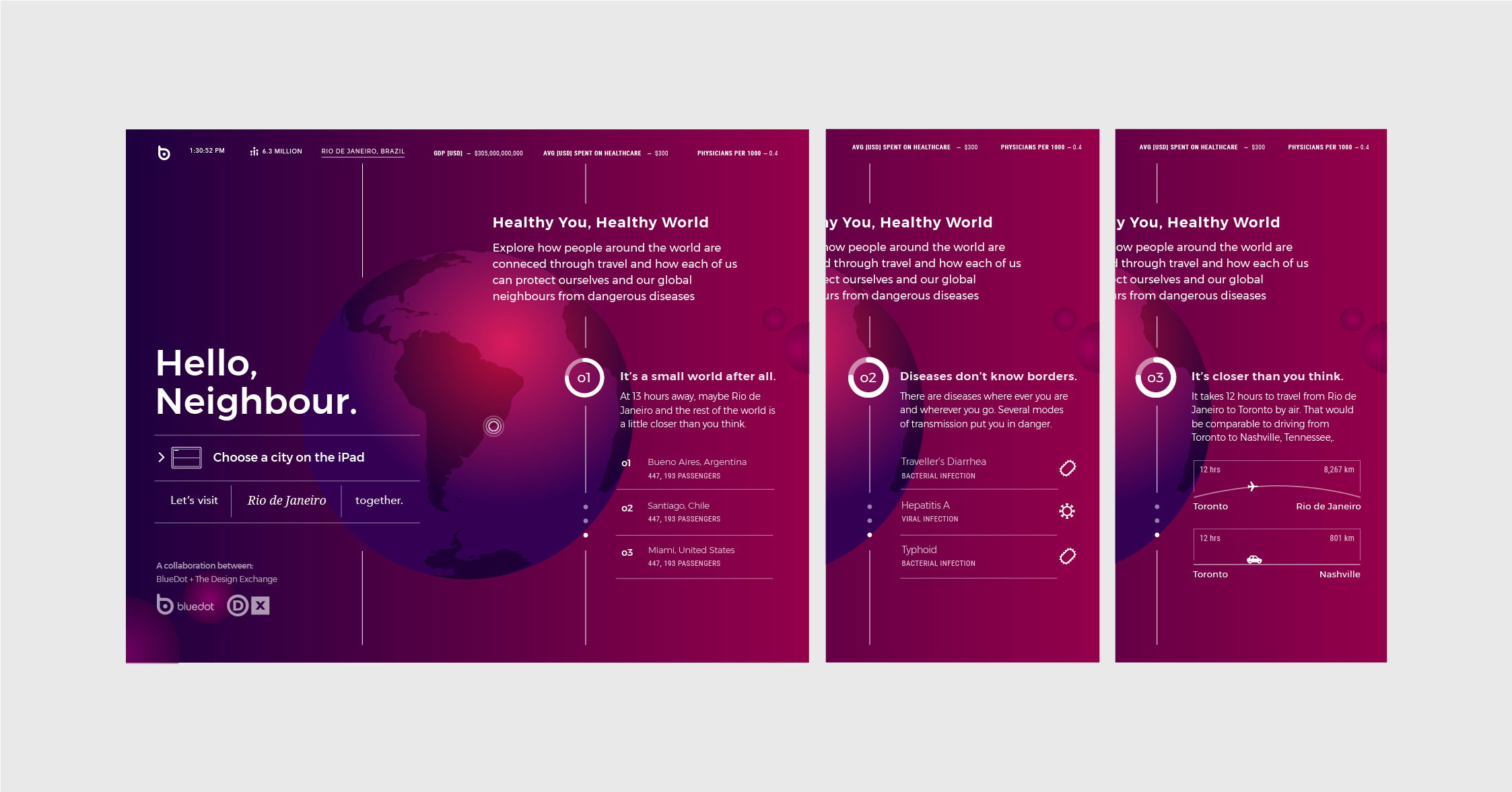 Labelled as The Festival of The Future, EDIT took place inside an abandoned Unilever detergent factory over the course of ten days to highlight the importance of design thinking and how it can improve and shape the future. Broken down into three verticals, the Shelters/Cities exhibit, Care exhibit, and Educate exhibit, visitors explored multiple floors dividing their attention between each. The Care exhibition where Hello Neighbour was situated aimed to demonstrate how design thinking can re-shape healthcare.
During a neutral state, Hello, Neighbour circulates between three sets of data: the top 3 locations most frequently travelled from a randomly selected city (It's a small world after all), the top 3 diseases prevalent in the selected city (Diseases don't know borders), and a city with comparably the same travelling time via car from Toronto (It's closer than you think). Once an individual chooses a location on the iPad in front of the display, the intro screen automatically deep dives into the three sets of data for the selected location.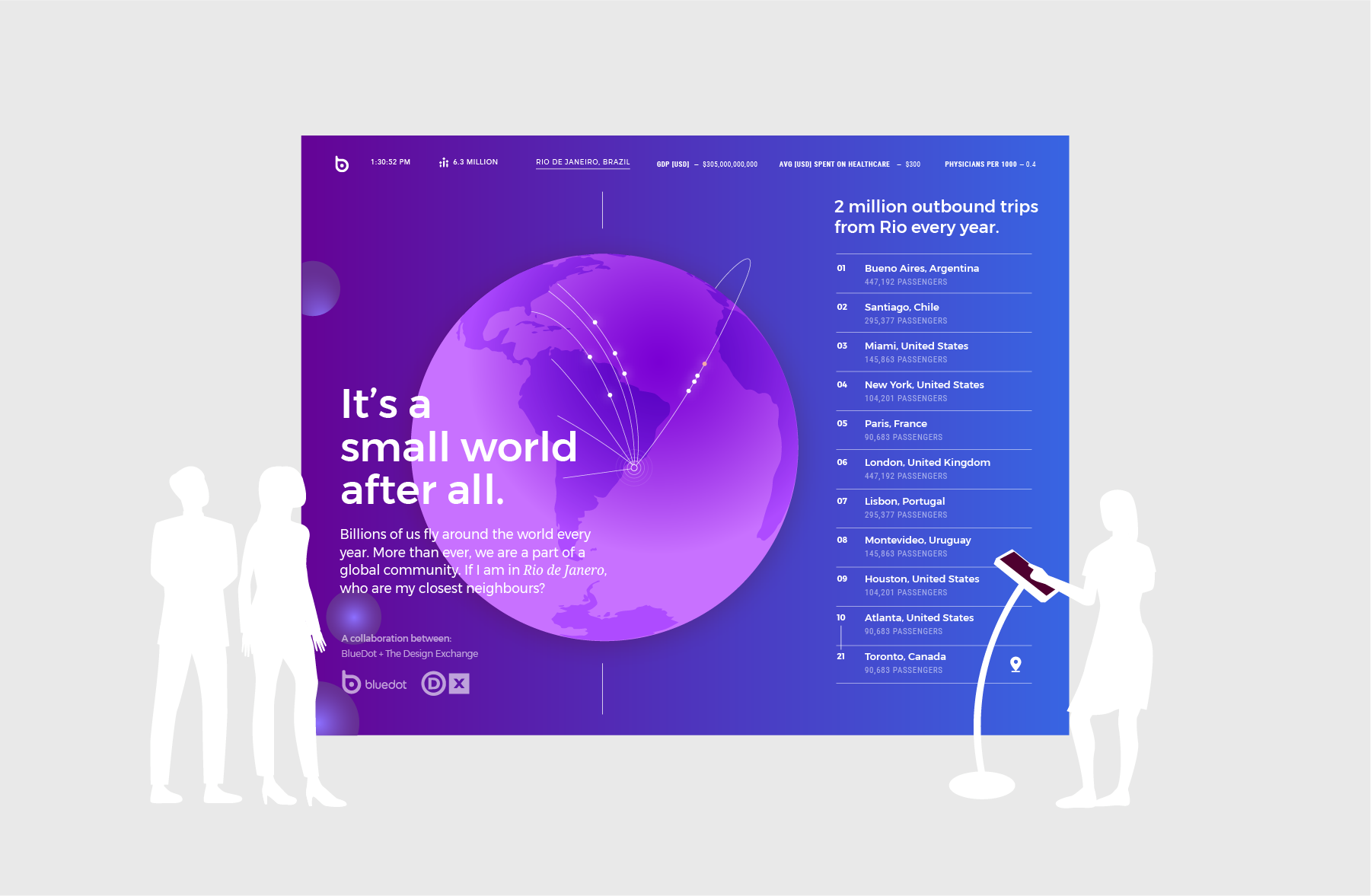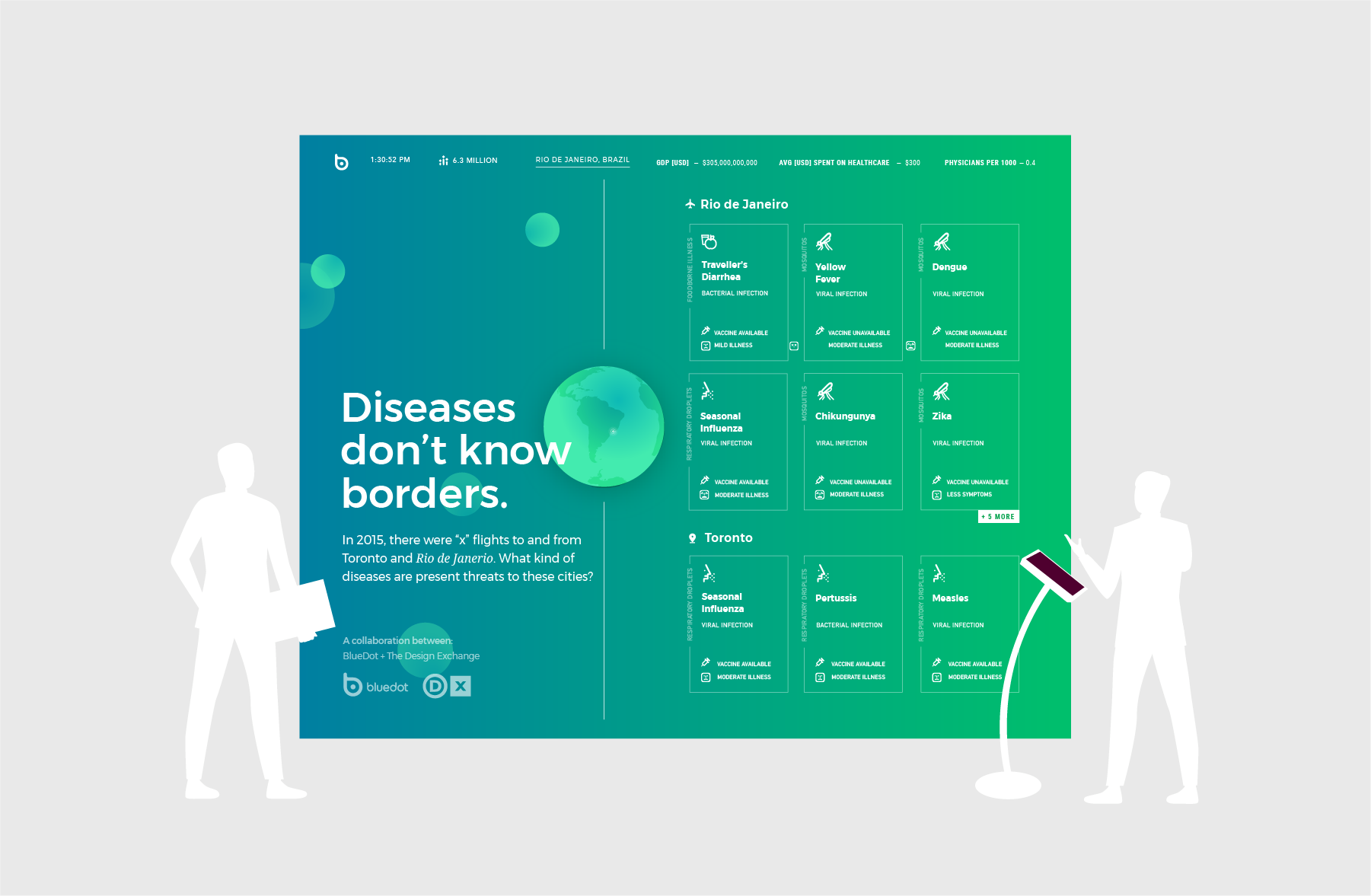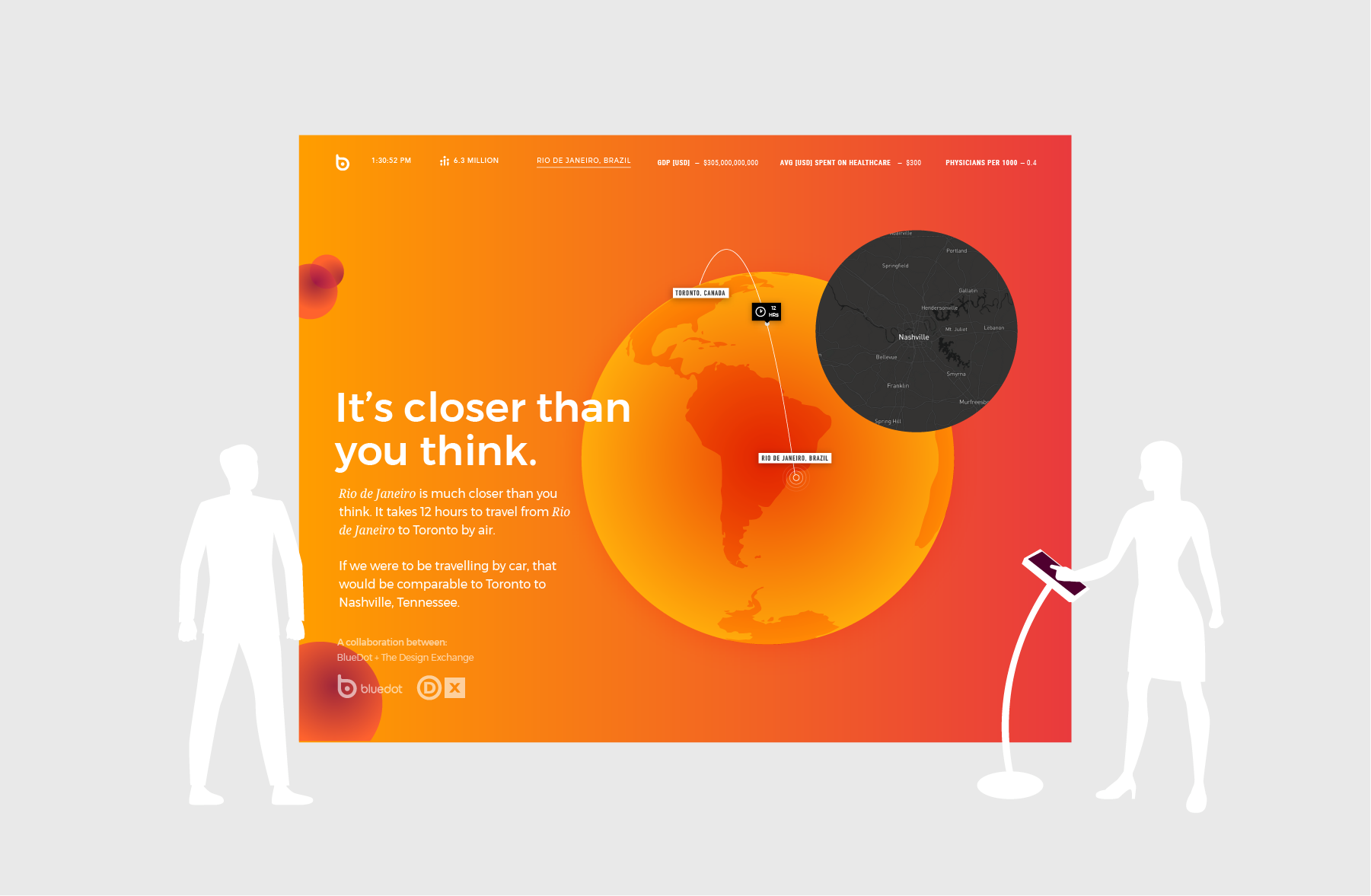 At anytime, an individual may go up to the iPad situated in front of the Hello, Neighbour installation to choose one of twelve pre-selected cities on the map, or enter their own destination of choice. Once the individual hits enter, the globe will automatically circle to the selected location and a deep dive of the three mentioned sets of data would play. If the individual was interested, they can receive the results shown on the screen to their e-mail.
Hello, Neighbour helped promoted George, BlueDot's mobile app which allows users to query any city around the world and have all the relevant travel health information such vaccinations and mode of transmissions, immediately.