Connecting Victorian communities through inclusive digital content and virtual experiences.
I was contracted by Victoria Together under the Department of Premier and Cabinet while working in Melbourne, Victoria to lead their brand refresh and redesign their website interface. Through findings gathered by their user researcher on demographics, interests, and patterns, I formed a visual language and built a design system for their platform and beyond. The end goal was a brand identity that is inclusive to all Victorians, no matter what social economical level, leisurely interests, or across metro or regional Victoria.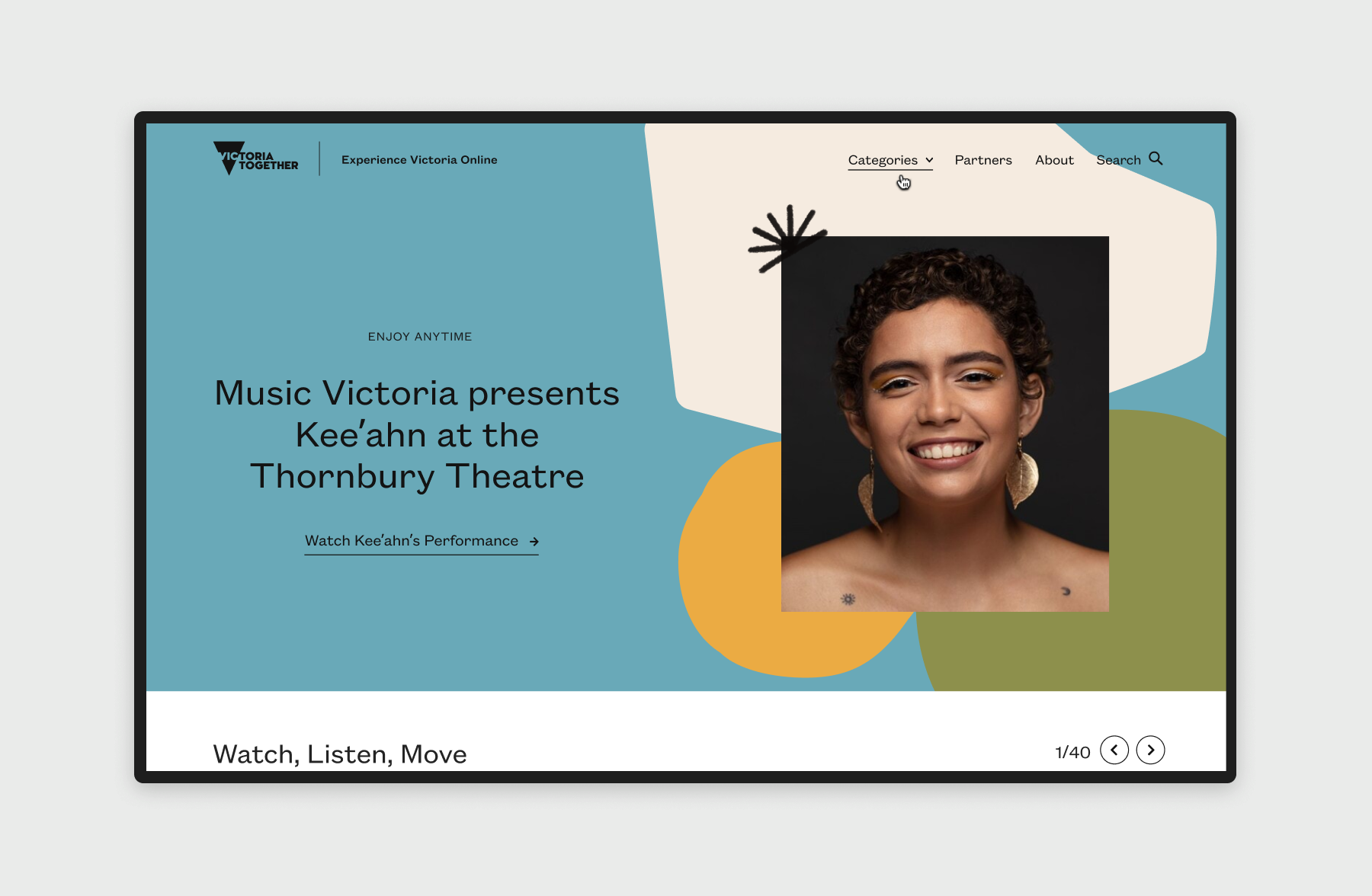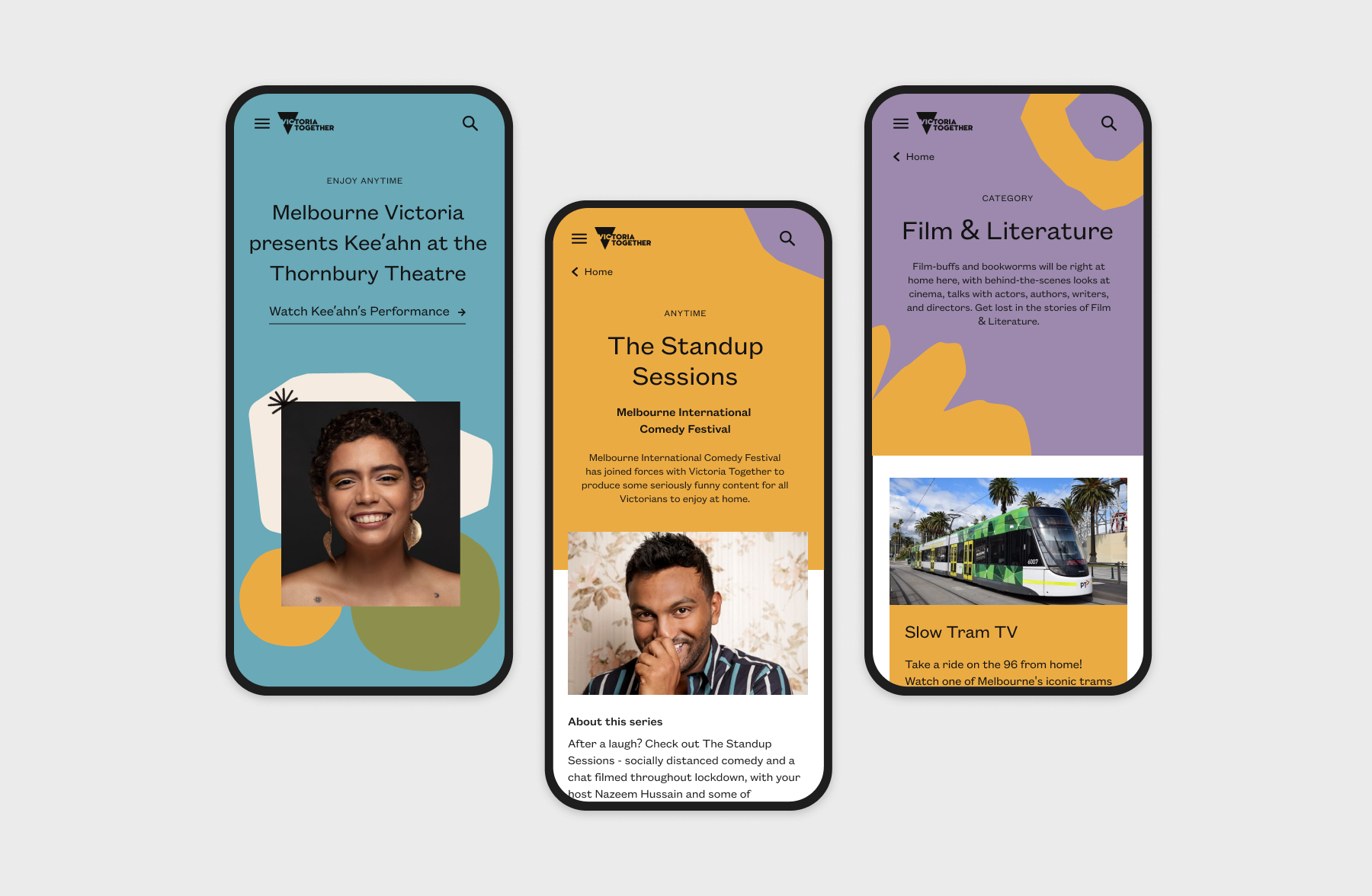 Born during the recovery period from the COVID pandemic, Victoria Together is the only Victorian Government digital platform that brings together cultural content and organizations across a range of sectors. In doing so, they help connect, inspire, entertain, and inform a wider audience.
Due to the current social climate, it is important that the brand identity avoids common triggers of anxiety and/or alarm. Additionally, dissociating from being too strongly of a government organisation may help the audience feel under less bureaucratic control. This was all done through a new colour palette and font face.
Inspired by the craft and cheer often found in Matisse's Cut-Outs and collaging, I built a brand that celebrates freedom, discovery, and community. Pattern and illustration sets aid as visual interest especially when partners are unable to provide high quality images for the platform or for marketing purposes.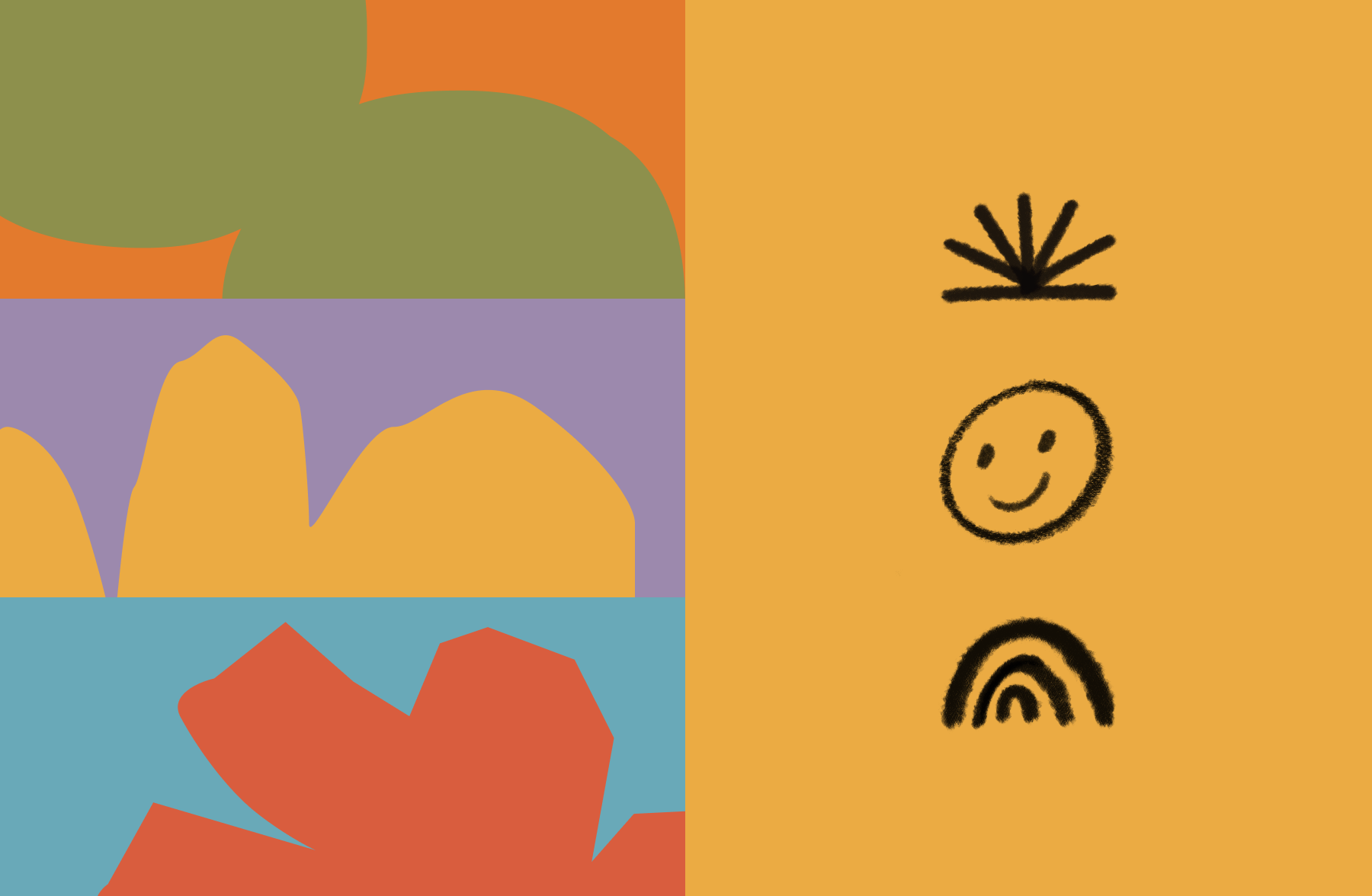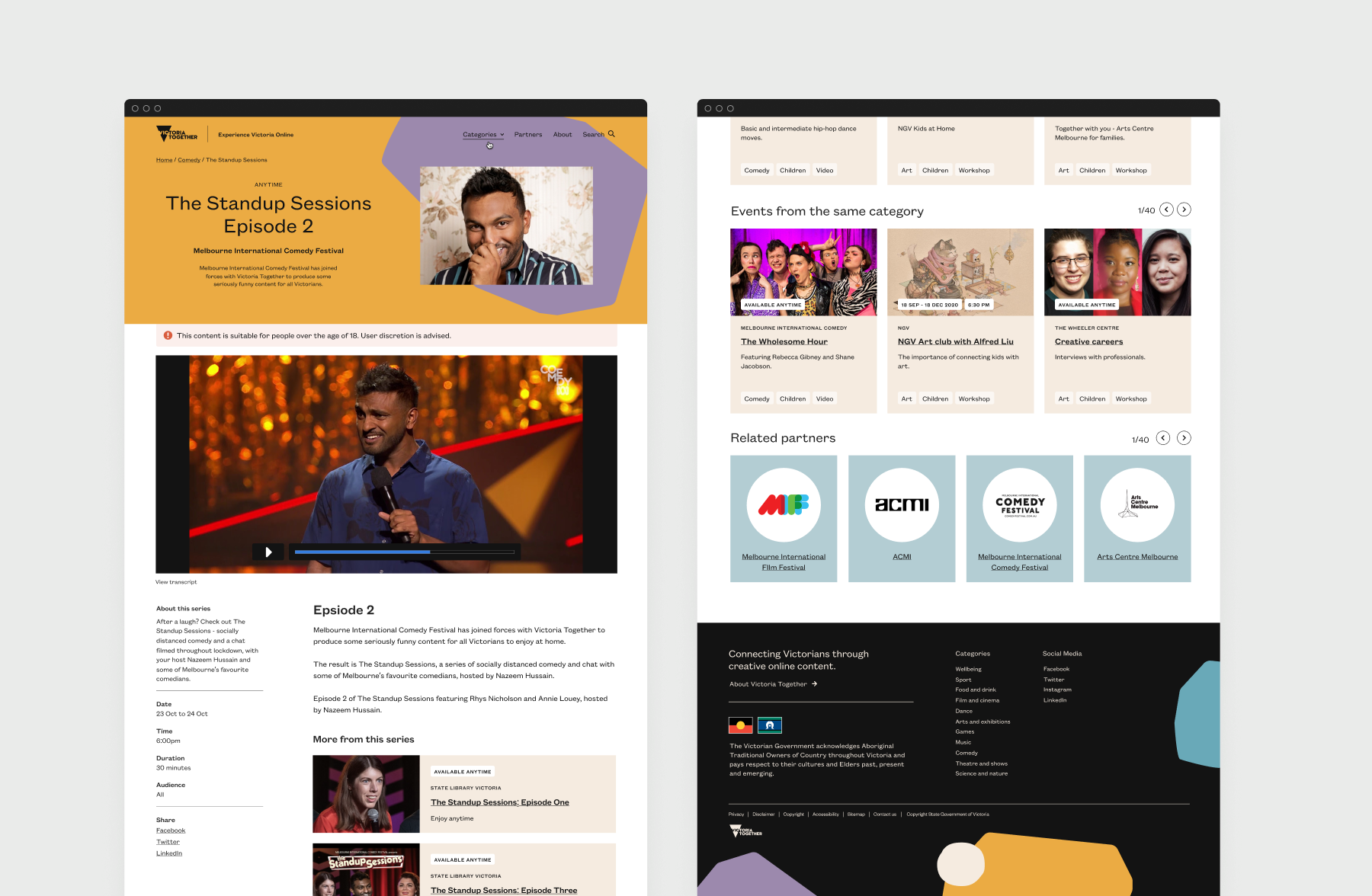 Events make up the core experience on Victoria Together. Whether it is simply a link to external content, live streams, sessional video content, galleries, interviews, or audio content, event pages are designed to display every variety. Content managers have the option to choose between four colour sets for each event page header. Customization is encouraged throughout the site, but limited to a few options whether it is seen in headers or call to action blocks.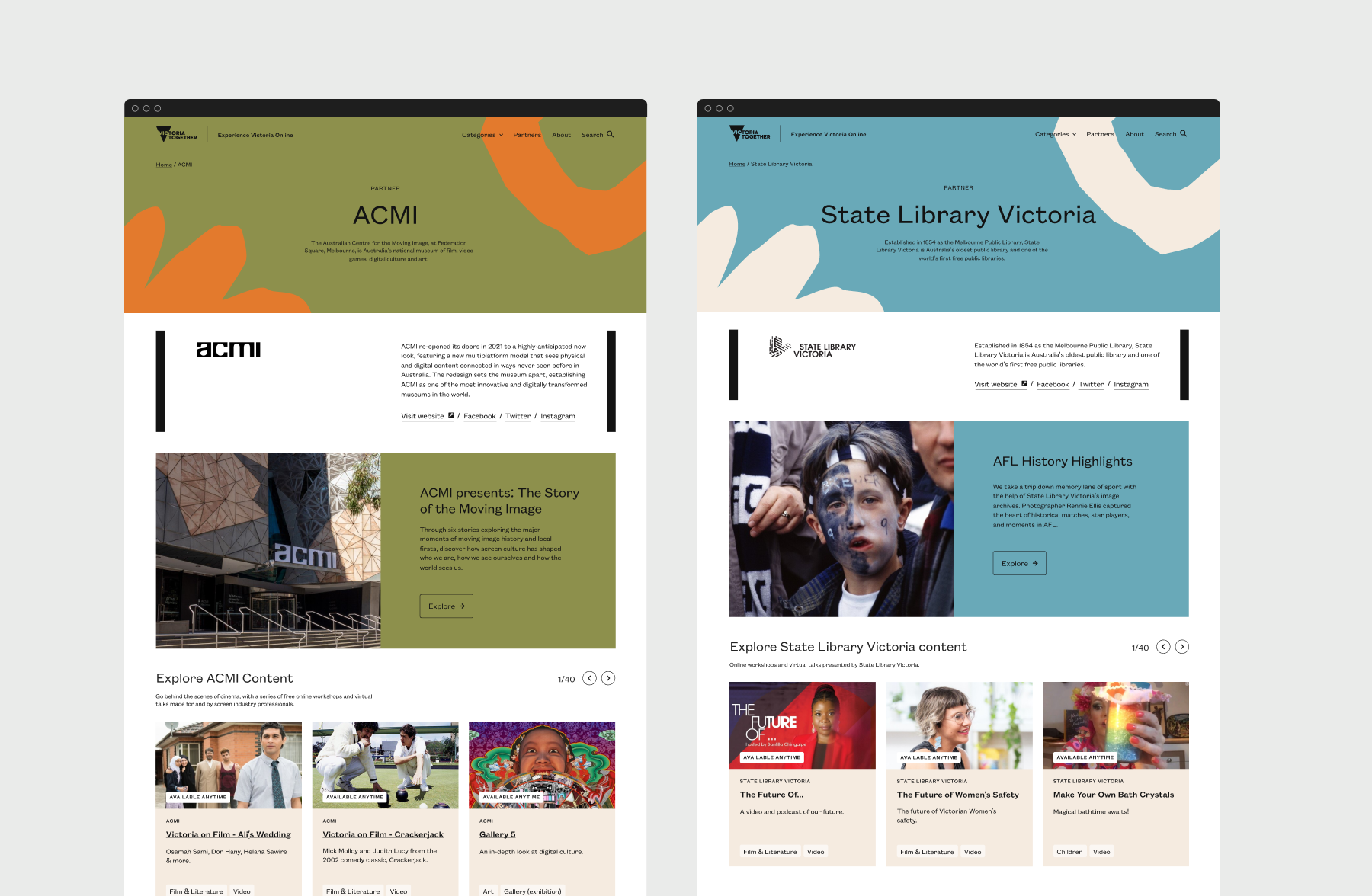 Whether users prefer to explore content via specific partners or categories (e.g. Music, Film & Literature, Comedy), these options are easily accessible within the navigation bar above. Each page allows you to delve further into curated sets and highlights.